There's no time like the present to eat more fruits and veggies, because it's summer! The cantaloupe we had for breakfast was outstanding.
Do you ever smell or taste a food and immediately, you're back in your childhood kitchen, or in my case today, the "breakfast room." (I never really understood why it was called that, because we ate every meal there unless we had company.) One bite of that luscious melon, which was absolutely perfect in flavor and texture, and with no effort at all, my thoughts went to that most pleasant room with the aqua and white trellis wallpaper. Further, it conjured up memories of the more care-free times of summer, when it seemed everyone in the family was more relaxed and the warm temperatures invited us outside.
Marcel Proust, the French writer, first articulated this experience, describing it as a kind of flashback when you suddenly recall an event or experience in your past, triggered by a particular aroma. Food may not be the only thing to trigger a Proustian experience; it could be the smell of a certain brand of perfume, of cherry pipe tobacco or even of tar shampoo, (another big one for me!)
But, since we're talking about food on this blog, think about if you have ever had a Proustian food experience. Often, my husband will taste my vegan version of an asparagus or broccoli soup and immediately start talking about seafood bisque and trips to Grand Isle, Louisiana! Here's the recipe for that vegan broccoli soup. To return to the website click here: www.totalvegetarian.com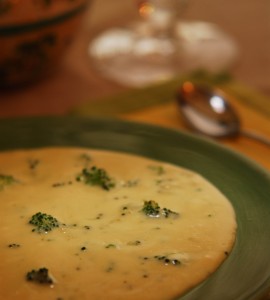 Broccoli Soup
Tahini and nutritional yeast flakes provide a cheesy flavor without any dairy products in this flavorful cream soup. Try cauliflower, asparagus or celery instead of broccoli.
3 cups, fresh broccoli, chopped
½ cup chopped, steamed onions or 2 tablespoons dry onion flakes
5½ cups unsweetened soymilk or nut milk
2 tablespoons nutritional yeast flakes
½ teaspoon garlic powder or 1 clove pressed
1 tablespoon tahini
1 teaspoon salt
1/4 cup cornstarch 
Place broccoli and onions in steamer and steam until tender.

Heat 4 cups milk, nutritional yeast flakes, garlic powder, tahini and salt, in a medium saucepan, but do not boil.

Mix cornstarch with remaining 1½ cups milk. Add to heated milk and cook on low heat, stirring constantly until thickened.

Add steamed broccoli and onion to thickened soup. Serve hot. 
Makes 8 servings. 
Nutritional analysis per 1 cup: Calories 130, Protein 8 g, Carbohydrates 16 g, Fiber 3 g, Fat 5g, Sodium 320 mg  
Looking forward to hearing about your Proustian experiences, a flash from your past!