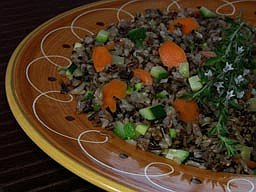 Wild Rice Pilaf
An excellent accompaniment to Baked Tofu, this pilaf could be made with brown rice, quinoa, or whole wheat couscous.
8 ounces Lundberg Wild Blend rice
3 cups water
½ teaspoon salt
1 cup chopped onion
1 clove fresh garlic, pressed
1 small zucchini, diced 1 carrot, sliced
1 tablespoon olive oil
1 tablespoon Bragg Liquid Aminos
1 teaspoon dried basil
1 tablespoon parsley flakes
Bake rice by combining water, rice and salt in a 7 x 10-inch casserole dish. Cover and bake at 350° F for 45 minutes. Allow to cool.
Begin steaming onion, garlic, carrot in a small amount of water. After 3 minutes, add diced zucchini and steam an additional 5 minutes.
Add cooked rice and remaining ingredients and toss to mix.
Makes 6 servings.
Nutritional analysis per ½ cup:
Calories 127
Protein 4.6 g
Carbohydrates 23 g
Fiber 2.2 g
Fat 2.6 g
Sodium 310 mg
Variation:
Edamame (green soybeans) may be substituted for the zucchini.