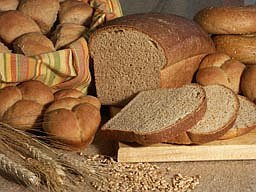 Honey Wheat Bread
Made by hand or in a bread machine, this recipe seems to be foolproof. The molasses makes all the difference!
1¼ cups warm water
1 tablespoon honey
1 tablespoon molasses
2 teaspoons dry yeast*
1 teaspoon salt
1½ tablespoon oil
1½ cup unbleached white flour
1½ cup whole wheat flour
¼ cup additional flour for kneading
Put the warm water in a large mixing bowl. Add the honey and molasses and stir until they are dissolved.
Sprinkle in the yeast and stir. Let this mixture rest until the yeast comes to the top of the mixture, a matter of only two or three minutes. This step is to "proof" the yeast, making sure it have leavening power.
Add the salt and the oil and stir, making sure that all ingredients are mixed well.
Add half of the flour and beat as a batter for 3-5 minutes.
Add the rest of the flour gradually. You need less on a dry day, more on a damp day.
Use an extra ¼ cup flour if it is needed to absorb the liquid in forming a ball of dough.
Place the dough ball on a surface sprinkled with flour. Rub a little flour on your hands and proceed to knead. Fold the dough toward you. Using the heels of your hands, push the dough away from you with a rolling motion. Do not be afraid to use a firm touch. Swing the dough a quarter turn around.
"Wherefore do ye spend money for that which is not bread? and your labor for that which satisfieth not?" Isaiah 55:2a