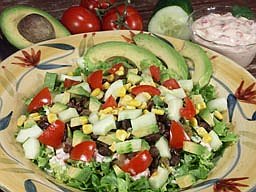 Southwestern Salad
Many restaurants serve a similar salad and include chunks of chicken breast. Soy Curls prepared with chicken-style seasoning would add taste and texture to this salad, though it's quite good as is.
6 cups romaine lettuce, torn
1 avocado, diced
16-ounce can black beans, drained
1 cup corn, canned fresh or frozen
2 cups diced tomatoes, canned or fresh
1 cucumber, diced
½ cup red onion, chopped
1 recipe Mexi-Texi Ranch Dressing
½ cup fresh cilantro, chopped
Place 1½ cups of the lettuce on individual plates. Top each salad with 1/3 cup Mexi-Texi Ranch Dressing.
Layer with black beans, avocado, corn, tomatoes, cucumber, and red onion. Sprinkle each salad with 2 tablespoons of cilantro.

Serve with corn chips.
Makes 4 large salads.
Nutritional analysis per salad:
Calories 377
Protein 16.6 g
Carbohydrates 56.7 g
Fiber 19.6 g
Fat 12.9 g
Sodium 628 mg