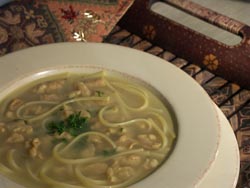 SoyCurl Noodle Soup
A nice addition to this soup is a handful of thoroughly washed fresh spinach. Add it to the soup and continue cooking another 3 minutes.
1 tablespoon minced garlic ½ cup chopped onion
6 cups water
2 cups dry whole grain pasta, ribbon style if available
1 cup SoyCurls
1½ tablespoons chicken-style seasoning
1 teaspoon dried parsley or 2 tablespoons finely chopped fresh parsley
In a large pot, lightly steam onion and garlic in ½ cup of the water.
Place remaining water, pasta and chicken-style seasonings into pot and bring to a boil. Add remaining ingredients and bring to a boil. Allow to boil gently for 8-10 minutes.
Cook on medium heat until pasta is tender. Add garbanzos and parsley.
Makes 6 servings
Nutritional analysis per 1 cup:
Calories 296
Protein 13.5 g
Carbohydrates 60.2 g
Fiber .9 g
Fat 2.1 g
Sodium 148 mg