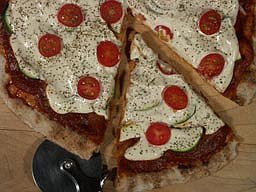 Pita Pizza
Plan a pizza bar and let everyone make their own so they can "have it their way." Throw the leftover fixings in the salad and you've got a party!
1 package whole wheat pita bread
Spaghetti Sauce or pizza sauce
Quick & Easy Cheese
Topping ideas: diced tomatoes, chopped onions, garlic, peppers, sliced black olives, Best Burger crumbled, zucchini, yellow squash.
Spread pita bread with sauce. Top with toppings of your choice.
Spoon cheese on top. *A commercial soy mozzarella may be used.
Sprinkle with Italian seasonings and finish with sliced black olives.
Bake at 400o directly on oven rack for 10 minutes. Serve immediately.
Makes 6 pizzas.
Nutritional analysis per pizza:
Calories 260
Protein 12.7 g
Carbohydrates 36.9 g
Fiber 8.4 g
Fat 9.4 g
Sodium 1137 mg