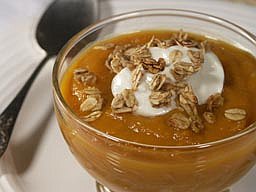 Butterscotch Pudding
The combination of maple and vanilla extract, plus just the right amount of salt makes this pudding a dead ringer for butterscotch. Here's an opportunity to use maltitol to decrease the grams of sugar in the recipe. If you prefer, just use honey. Top this with Coconut Whipped Cream or make a parfait for a spectacular presentation.
15-ounce can of pumpkin
3 tablespoons imitation honey (maltitol)
2 tablespoons honey
1/3 cup soymilk
1 teaspoon vanilla extract
½ teaspoon maple extract
1/8 teaspoon salt plus a dash
Whip all ingredients together in a bowl with a wire whisk.

For creamier pudding, add 1/3 cup silken tofu, 1 tablespoon more honey and an additional dash of salt, and blend until smooth in blender.
Makes 4 Servings.
Nutritional analysis per ½ cup:
Calories 118
Protein 2 g
Carbohydrates 31.1 g
Fiber 3.4 g
Fat 0.7 g
Sodium 370 mg